Posts for tag: dental injuries
By Emerson Family Dental Care
October 19, 2018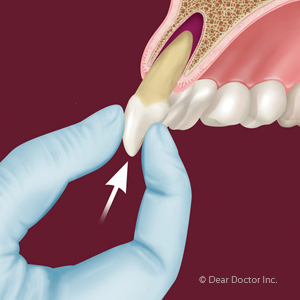 Mouth injuries in children and teens are more common than you might think: about one out of three boys and one out of four girls will have experienced an injury before they graduate from high school. Besides contact sports, other types of accidents like car crashes or falls are high on the cause list.
Although most dental injuries aren't considered true emergencies, there are a few where prompt action may mean the difference between ultimately saving or losing a tooth. One such situation is a knocked out tooth.
In the event of a knocked out (or avulsed) tooth, your primary goal is to place the tooth back into the empty socket as quickly as possible. Teeth that have been out of the mouth for less than five minutes have the best chance of reattachment and survival. The first step is to quickly locate the missing tooth.
Once you've found it, use only cold, clean water run or poured over the tooth to carefully clean off dirt or debris (no soaps or cleansers). You should also avoid touching the tooth root or scrubbing any part of it. After cleaning it of debris, gently place the tooth back in its socket, then immediately contact us or visit an emergency room. While you're en route to our office the patient should carefully hold the tooth in place. If the tooth can't be immediately placed into the socket (the patient is unconscious, for example), then you should place the tooth in a clean container and keep it moist with cold milk, a sterile saline solution or even the patient's saliva.
Taking these steps increases the chances of a successful re-implantation, although the injury may ultimately affect the tooth's lifespan. Replanted teeth can suffer from root resorption (where the root tissue dissolves) or a process known as ankylosis in which the tooth fuses directly to the jawbone with no healthy periodontal ligament in between. Either of these conditions can lead to tooth loss.
Still, it's worthwhile to try to save the tooth, even if for a few more years. Those extra years can help you prepare for a future restoration.
If you would like more information on responding to dental injuries, please contact us or schedule an appointment for a consultation. You can also learn more about this topic by reading the Dear Doctor magazine article "Accidental Tooth Loss."
By Emerson Family Dental Care
December 29, 2014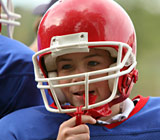 One question we are most often asked by parents of athletes or those who participate in physical sports is, "Do mouthguards really work?" And when we respond, "yes," a common follow-up question is, "Is there any scientific evidence to support this claim?" Based on this scenario, we feel it is important to provide you with some interesting and evidence-based facts on this topic.
The first reported use of mouthguards was in the sport of boxing. And because participants and bystanders in the 1920s quickly witnessed their effectiveness even back then, the trend's popularity grew to the point that boxing became the first professional sport to require them. However, other sports soon started following this lead — especially those high-contact sports. The American Dental Association (ADA) started mandating the use of mouthguards for football in 1962 and the US National Collegiate Athletic Association (NCAA) currently requires mouthguards for football, ice hockey, lacrosse and field hockey. The ADA has since expanded their recommendations to now include 29 different sports and exercise activities. So now that you know more about the professional organizations pushing the use of mouthguards, let's get back to the second question, "What's the evidence?"
There have been numerous studies over the years regarding the properties of mouthguards, and more specifically their shock absorbing capabilities. Other studies have been based upon their protective abilities due to their stiffness, hardness and strength. This research has enabled us to vastly improve upon the effectiveness of mouthguards. For example, years ago latex rubber was a popular material used to create mouthguards. However, today we use products such as ethylene vinyl acetate or polyurethane because they are far superior in durability and flexibility. And impact studies have shown that the chances of fracturing teeth is dramatically reduced when wearing one of these mouthguards...especially when compared to individuals wearing no mouthguard at all. In fact, research has revealed that by not wearing a mouthguard during physical sports or exercise, individuals are 60 times more likely to experience an injury to the mouth and/or teeth.
To learn more about the importance of protective mouthguards, continue reading the Dear Doctor magazine article "Athletic Mouthguards." Or you can contact us today to schedule an appointment to discuss your questions about mouthguards.
By Emerson Family Dental Care
October 24, 2014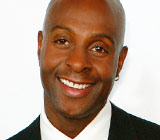 As a Pro Football Hall of Famer and first runner up on the hit television show Dancing with the Stars, Jerry Rice has a face and smile that truly has star quality. However, that was not always the case. During an interview with Dear Doctor magazine, the retired NFL pro discussed his good fortune to have had just a few minor dental injuries throughout his football career. He went on to say that his cosmetic dentist repaired several of his chipped teeth with full crowns. Rice now maintains his beautiful smile with routine cleanings and occasional tooth bleaching.
If you have chipped, broken or missing teeth, or are considering a smile makeover, we want to know exactly what you want to change about your smile, as the old adage is true: Beauty is in the eyes of the beholder. This is one reason why we feel that listening is one of the most important skills we can use during your private, smile-makeover consultation. We want to use this time to ensure we see what you see as attractive and vice versa so that together we can design a realistic, achievable blueprint for your dream smile.
For this reason, we have put together some questions you should ask yourself prior to your appointment:
What do you like and dislike about the color, size, shape and spacing of your teeth?
Do you like how much of your teeth show when you smile and when your lips are relaxed?
Are you happy with the amount of gum tissue that shows when you smile?
Do you prefer a "Hollywood smile" with perfectly aligned, bright white teeth, or do you prefer a more natural looking smile with slight color, shape and shade variations?
To learn more about obtaining the smile you want, continue reading the Dear Doctor magazine article "Great Expectations — Perceptions In Smile Design." Or you can contact us today to schedule an appointment so that we can conduct a thorough examination and discuss your cosmetic and restorative dentistry treatment goals. And if you want to read the entire feature article on Jerry Rice, continue reading "Jerry Rice — An Unbelievable Rise To NFL Stardom."